Regular price
$1,275.00 USD
Regular price
Sale price
$1,275.00 USD
Unit price
per
Sale
Sold out
This original painting is 24x30 inches. 
As I was reading in Revelation the phrase -" I will grant to eat of the tree of life, which is in the paradise of God.'" -Rev 2:7 caught my attention and got me excited. This tree of life in paradise (or a garden) appears at the very beginning of the Bible in Gen 2:9. To help with the significance you need to know the story of creation from Genesis. To summarize, God made everything from nothing and called it good, including the first man and woman- Adam and Eve. He then placed them in paradise, in a garden, gave them work to do, spent time with them, and provided for all their needs. There was one rule, God gave them, don't eat from the tree of the knowledge of good and evil. (Different tree) They were tempted and ate, and it caused a rift between God and man, and between each other as well. God gave them a glimpse of the future, the pain they'd endure because they had disobeyed, but also how God was going to fix it. One immediate consequence was God expelled them from the garden because He didn't want Adam and Eve to eat of the tree of life and remain forever in their fallen, separated state. The whole of the Bible written by 40 authors over a 1400 year time period outlines how God will make mankind right with himself, the first portion of the law and sacrificial system was put into place and a Messiah or savior was promised. The second part is Jesus coming, fulfilling countless prophecies as the Messiah, his life, death, and resurrection, and then letters from his followers to various newly formed churches in the area. Revelation the very last book is a book of prophecy that God revealed to Jesus's follower John, talks about the end of time, and the return of Christ. So I was intrigued and encouraged to see that now at the end of it all a path has been made according to the Bible to have people set right through what Christ has done and therefore now they get to eat of this tree of life! Eden is to be restored. My painting shows an open garden entrance with the tree of life standing inviting one to partake. I wanted the scene to look breathtakingly beautiful and to evoke a longing within us to enter. Worked into the garden opening and the tree roots are the Greek letters Alpha and Omega, the first and last, one of the names of God, which I thought was fitting as the tree of life appears at the beginning and end of the Bible.
Materials

Acrylic paint, glossy varnish, gallery-wrapped canvas, and wire so ready for hanging.
Shipping & Returns

Shipping 

Each painting is carefully packaged for shipping. The cost of shipping is dependent upon the size and weight of the painting, as well as how far the work is shipped and how fast a delivery method is. Cost is calculated at checkout. If you plan to order more than one piece of work, contact me first to see if they can be shipped together. All packages are insured and require a signature upon delivery. 

If you live within 30 miles of Orlando, Florida, I do offer delivery for $10, or free pickup from my home can be arranged. 

Returns

Returns are accepted for work in like-new condition within 15 days. Collector will pay for return shipping. Please use the packaging the work arrived in or have a professional repackage. Returns will be issued once work is received and inspected. 

In the unlikely event your painting arrives and the packaging looks damaged, please take photos of the package and painting when unpacked. I will work with you to get the item fixed or replaced if damaged.
Care Instructions

Each painting has a layer of glossy varnish on top to protect it from dirt, dust and UV light. If the painting is dusty or dirty, use a clean dry or damp cloth to gently wipe clean. It is recommended to hang artwork in spaces where temperature and humidity are controlled to avoid any warping or mold growth on the wooden frame. (Not recommended for outdoor use, or in damp spaces.)
Share
View full details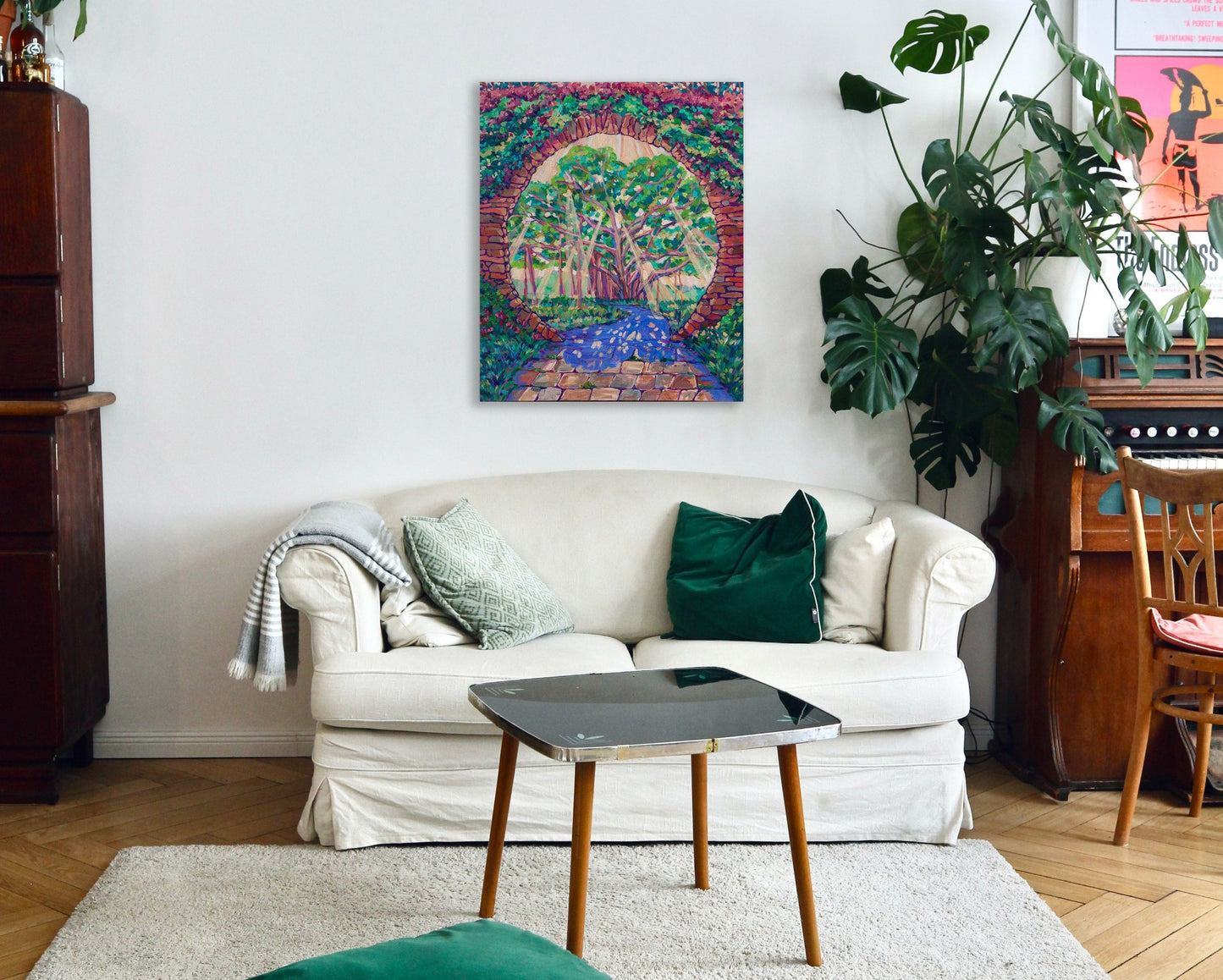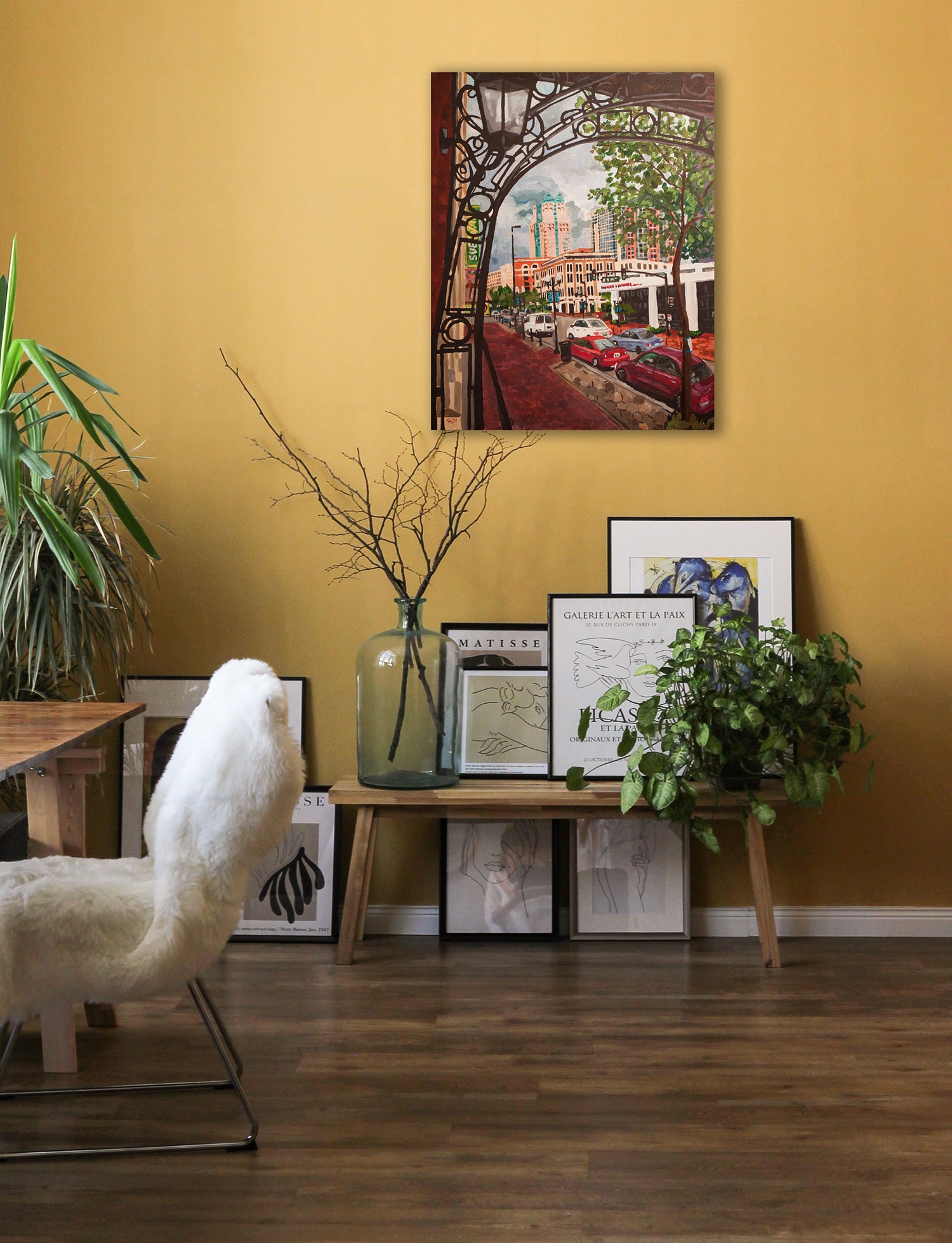 Your favorite space
Bold, pops of color, artwork that lifes your spirits and makes any space one you want to be in!